Restoration 1 of West Denver
Denver's Best Mold Remediation & Inspection Service

Five (5) Reasons Why We Are The Best Mold Remediation & Inspection Experts in Denver
Professionally trained technicians. The technicians who come to your home or office are certified and highly trained restoration experts.
Environmentally responsible. Our founder is an environmental engineer who believes in providing an Eco-friendly service.
Immediate assessment. We provide a prompt mold infiltration assessment so you know the extent of the problem.
Hassle-free service. We help our clients by providing assistance with the insurance claims process.
Trusted local contractor.We live and work in the Denver area. Our reputation is key to our commitment to provide the best service.
Expert Mold Remediation Service
If Your Home Has Experienced Water Intrusion, Your Next Worry Is Mold
If your property has sustained major flood damage, you need a restoration contractor that can make the necessary repairs, but ALSO assess the area for the presence of mold. Mold can form in areas that have taken on water – and if not treated, mold can and will spread to other areas. It's not something you want to delay or take lightly. The presence of mold can have adverse health effects, so it's important to seek expert mold remediation & inspection directly following a water event. At Restoration 1 of West Denver, we have the tools, training and expertise to take on mold issues, whether they are small or large. Our technicians know how to remove all traces of mold and get your property back to a safe and habitable state.
Urgency of Mold Remediation
Calling in the experts at the first sign of mold is important. There are several reasons for that.
Easier cleanup. If unattended, mold spreads quickly to other areas. This will make the cleanup process more difficult.
Safety is key. You'll want to make your home or office a safe environment again, so you can resume your daily life without worry.
Unhealthy effects of mold.Since mold can potentially cause a number of health issues, you definitely want trained professionals to handle the situation.
Why is mold a problem in some homes and businesses?
Mold grows in areas lacking proper ventilation. It can also appear in areas of high moisture. Excessive humidity is also cause for concern. To be safe and protect your family and co-workers, we advise owners to have a professional mold remediation & inspection performed immediately. Quick action may protect you from various symptoms such as:
Fever
Rash
Irritated or watery eyes
Breathing problems
Disease
Black Mold – What Is It?
The term "black mold" is often heard. What is it exactly? Black mold is similar to mildew, but it has a raised appearance (while mildew is "flat"). Black mold spreads when spores travel through the air to other areas. Black mold spores are particularly nasty because if inhaled, these spores can cause serious health issues. You can spot black mold by its dark gray, black or green color.
What is the Restoration 1 of West Denver Cleaning Process?
We conduct HVAC cleaning and decontamination.
Each technician on the Restoration 1 team is certified by the Indoor Air Quality Association (IAQA). We follow strict standards – resulting in the best possible outcome. When we get a call alerting us to the need for mold remediation & inspection, we first test the air quality in your home or office to determine the extent of the mold problem. By conducting this test, we know the best way to remove mold. Our team is fully trained and experienced in HVAC cleaning and inspection. Our process takes care of mold that has made its way into the system and unit.
How To Prevent Mold Growth
The best way to prevent mold growth is to ensure all areas of your property are thoroughly dried after water has seeped into your home or office. Drying furnishing, flooring and other materials can be very difficult. The proper equipment must be used and testing should be done to make sure items are thoroughly dried. For these reasons, we recommend that you leave the drying process up to professionals. When you call our mold remediation & inspection experts, we'll use equipment to completely dry all affected areas. We'll then sanitize all surfaces to stop mold from forming in the future.
If you suspect mold in your Denver home or office, call Restoration 1. We're highly-trained to deal with any mold problem, regardless of its severity.
24-Hour Emergency Service
Certified and Highly Trained Restoration Experts
Eco Friendly Service
Prompt Damage Assessment and Pretesting
| Sunday | 24 Hours |
| --- | --- |
| Monday | 24 Hours |
| Tuesday | 24 Hours |
| Wednesday | 24 Hours |
| Thursday | 24 Hours |
| Friday | 24 Hours |
Why Choose Restoration 1?
High Service Standards
24/7 Response Time
We Guarantee The Use Of The Most Current Code Standards
Certified Experts
We Live In Your Community
We Have Experience Dealing With All Insurance Companies
Emergency Services
We Consider You Part Of Our Family
Pride In Meeting Your Restoration Deadlines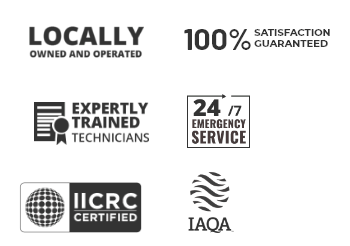 Fast Response Time - Local & Professional OPEN 24/7, CALL NOW!
Our promise is that we will use the best materials and above code quality craftsmanship to restore your damaged property.