The City Of Denver Deserves The Best Water Damage Restoration & Cleanup Services

Denver is the home of Restoration 1 Of West Denver
We hire and train only the best! Our technicians are all certified!
Call us at any time of day or night! We offer 24-Hour emergency service
We keep you informed by providing prompt damage assessment, pretesting and evaluation of the damage.
Water Damage Restoration & Clean Up
Certified Property Restoration Experts
Water damage in Denver can result from any number of problems – frozen pipes, melting snow, a freeze-thaw cycle or even storms. Damage from water is extremely frustrating. Even the smallest leak can cause major damage fast. The decision to ignore a minor leak can be disastrous. When and if you need a water damage expert, turn to professionals who are familiar with the area, have the latest equipment to handle water intrusion and whose employees are highly trained.
Restoration 1 of West Denver is the water damage expert you can trust. We've had experience with all kinds of water disasters and can often detect problem areas that other companies may not. Our state-of-the-art equipment can also make the difference between saving wood floors and demolishing them. Technology, skills, talent, training and experience can make a huge difference in what is recoverable, and the timeframe needed to your home or office to working condition. When your Denver property sustains damage from a leak or flood, give us a call immediately.
The Restoration 1 of West Denver Water Damage Restoration Process
Water damage restoration must be done properly. When we take care of your needs, we follow a strict set of guidelines to make sure your property is recovered as best as possible. In addition, Restoration 1 of West Denver technicians are also mold experts. That's important because the end result of some water damage can be the spread of mold throughout your home or office. If addressed quickly, mold can be cleaned and controlled. If not, mold spreads to other areas rapidly. In short, when you hire Restoration 1 of West Denver, our team goes through an exhaustive process as we clean your property.
The cleanup includes: 
The use of the newest technology available. We invest in equipment to provide the best means of water removal for our clients. It makes a difference – both in terms of time and results.
The removal of property that is beyond repair. It's inevitable – some items, particularly carpet, may be beyond repair. Removing it immediately helps to control the growth of mold.
Besides removal of property, we control mold growth by sanitizing and dehumidifying the area.
Some items can be repaired. We make a list of needed repairs and get to work to make sure they are completed properly.
Constant communication - At all times, our clients are informed of where we are in the cleanup process. We also answer any questions that may arise.
Why Do Homes and Businesses Sustain Water Damage?
There are any number of reasons why property damage can result from water. Frozen pipes are a big reason in Colorado. Pipes that aren't properly wrapped or are exposed to exterior temperatures can burst as a result of a freeze / thaw cycle. Other common water damage areas can include a slab leak, old plumbing, or a hot water heater leak. No matter what the cause, the experts at Restoration 1 of West Denver can get things under control. Our technicians have the expertise to diagnose the issue and return your property to pre-damage conditions. We make it safe for your family or co-workers.
What If The Damage Occurs At Night?
We get it. A leak can happen at any time, even in the middle of the night. Restoration 1 of West Denver has 24 hour, 7 days a week, service. Our water restoration service team is ready when you need us. When we get your call, we arrive quickly to get the cleanup process underway. The sooner we start, the better the result. And we won't leave until your property is stable and safe for you, your family and/or your co-workers.
 If your Denver property has sustained damage from a flood, freezing pipes, sump pump or leak, call Restoration 1 of West Denver now. We provide timely and honest service to each and every customer.
Ceiling damage and floor drying process in Denver home.
24-Hour Emergency Service
Certified and Highly Trained Restoration Experts
Eco Friendly Service
Prompt Damage Assessment and Pretesting
| Sunday | 24 Hours |
| --- | --- |
| Monday | 24 Hours |
| Tuesday | 24 Hours |
| Wednesday | 24 Hours |
| Thursday | 24 Hours |
| Friday | 24 Hours |
Why Choose Restoration 1?
High Service Standards
24/7 Response Time
We Guarantee The Use Of The Most Current Code Standards
Certified Experts
We Live In Your Community
We Have Experience Dealing With All Insurance Companies
Emergency Services
We Consider You Part Of Our Family
Pride In Meeting Your Restoration Deadlines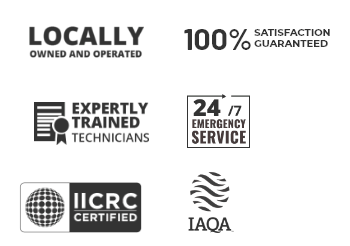 Fast Response Time - Local & Professional OPEN 24/7, CALL NOW!
Our promise is that we will use the best materials and above code quality craftsmanship to restore your damaged property.