4 Reasons Why You Should Call Restoration 1 of West Denver
Professional and Highly Trained. Our technicians undergo training specific to the Restoration industry and recommended by associations within the industry. We are experts in our field.
Environmentally Concerned Contractor. Our owner is a degreed environmental engineer. We are an Eco-friendly service, dedicated to protecting the environment.
Practical and Thorough Sight Inspection. We provide a prompt mold infiltration assessment.
Hassle-free Assistance. If needed, we are happy to discuss the project with your Insurance Claims adjuster.
Expert Mold Remediation Service In Arvada
Water Disaster? Your Next Worry Is Mold
If your property was involved in a water issue of some kind – flood damage, broken pipes, slab leak or plumbing problem – and has sustained major damage, mold can be a problem. If not treated and dried out properly, property that has taken on water will immediately experience a mold infestation. Mold can form quite quickly. It's the reason why we recommend you seek expert mold remediation & inspection remediation immediately following a flood. At Restoration 1, we have the experience, tools and training to take on a mold issue, no matter the extent. Our technicians will carefully remove all traces of mold and get your property back to a safe and habitable state.
Why Is Mold Remediation Important?
There are a few reasons why you should call experts at the first sign of mold.
Mold spreads fast. If left unattended, more areas will be affected by mold, making the clean up even more difficult.
Mold is unsafe.The quicker you have a mold remediation expert address the issue, the earlier you can return to the affected area.
Unhealthy environment.The potential for health issues is too great as a result of mold. This is especially true for young children, older adults or anyone who is immunocompromised. It is also unsafe for anyone with asthma. Calling in the experts at the first sign of mold is important.
Causes & Risks of Mold
How does mold grow? Mold seeks out areas lacking in proper ventilation. It is prevalent in areas of high moisture, or where there's excessive humidity. Working with a professional mold remediation & inspection contractor immediately can protect you from symptoms that result from mold. These include: Fever, Rash, Irritated or Watery Eyes, Breathing Problems and Other Diseases.
The Proper Mold Remediation Process
We Adhere To The Indoor Air Quality Association (IAQA) Standards
Every technician at Restoration 1 of West Denver goes through the certification process designed by the Indoor Air Quality Association (IAQA). The best results are obtained when technicians adhere to this proven process. The first step we take, once we get a call, is to test the air quality in your home or office to determine the extent of the mold problem. Once we have these results, we know the best way to remove mold. Our team is fully trained and experienced in HVAC cleaning and inspection. Our process takes care of mold that has made its way into the HVAC system and unit.
How To Prevent Mold Growth In The Future
First, all areas must be dried thoroughly. This is the best way to prevent mold growth. The drying process must be conducted according to industry recognized standards. For the best results, the process of drying furnishings, flooring and other materials should be handled by professionals. It's important to use the proper equipment – designed to make sure items are dried thoroughly. We also test the area for dryness. It's not always evident that certain materials are thoroughly dried. When you call our mold remediation & inspection experts, we'll use equipment to completely dry all affected areas. We'll then sanitize all surfaces to stop mold from forming in the future.
If you suspect mold in your Arvada home or office, call Restoration 1. We're highly trained to deal with any mold problem, regardless of its severity.
24-Hour Emergency Service
Certified and Highly Trained Restoration Experts
Eco Friendly Service
Prompt Damage Assessment and Pretesting
| Sunday | 24 Hours |
| --- | --- |
| Monday | 24 Hours |
| Tuesday | 24 Hours |
| Wednesday | 24 Hours |
| Thursday | 24 Hours |
| Friday | 24 Hours |
Why Choose Restoration 1?
High Service Standards
24/7 Response Time
We Guarantee The Use Of The Most Current Code Standards
Certified Experts
We Live In Your Community
We Have Experience Dealing With All Insurance Companies
Emergency Services
We Consider You Part Of Our Family
Pride In Meeting Your Restoration Deadlines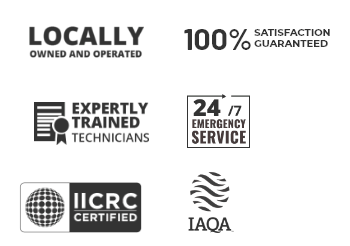 Fast Response Time - Local & Professional OPEN 24/7, CALL NOW!
Our promise is that we will use the best materials and above code quality craftsmanship to restore your damaged property.