Three (3) Reasons Why We Are The Best Restoration Contractor in Aurora
Professionally Trained Technicians. Fully trained, knowledgeable and skilled.
Advanced Equipment. The right equipment saves time and money.
Timely Service. We are available 24/7, 365 days per year.
Professionally Trained Technicians
Advanced Equipment
The equipment used when remediating a disaster often determines the outcome. It is our belief that the most current equipment, along with experience, brings better results. When disaster strikes, it's important to hire a professional company with lots of experience.
Be prepared. If possible, consider having a contractor in mind before a disaster – rather than scrambling to find solutions when damage occurs.
How we work. The first thing we do when you call Restoration 1 of West Denver is to conduct a damage assessment. Knowing the extent of the damage and what it will take to return a home or office to pre-disaster condition is critical to understanding the complexity of the project. Once we've assessed the site, our technicians will use the most advanced equipment in the industry (here's an example), to restore your property. As noted above, our technicians are highly-trained and certified. They've had experience in all types of cleanup and restoration efforts. If you have a disaster, let us be your go-to property restoration service.
Timely Service
When you have a disaster, you need 24-Hour Emergency Service. And with major property damage, you need professionals who have experience in the field. We understand what you are dealing with. Whether you own residential or commercial property, we dispatch our technicians immediately to inspect the damage. Once on site, we form a plan to return your property to pre-damage state. Our service includes:
Trained technicians who are certified in restoration procedures by the two top associations in the industry.
Environmentally friendly services – we want to avoid further damage – to your home and to the environment.
Professional inspection by trained professionals will also include a prompt mold infiltration assessment if appropriate.
Help with claims. We are happy to discuss the scope of the project with your insurance adjuster.
RESTORATION 1 OF WEST DENVER SERVICES
Water Damage Restoration & Clean Up In Aurora.
Timely restoration is helpful in fully reversing the effects of the water damage. Our team works hard to ensure your property is dried thoroughly. The latest equipment can speed up this timeline. We also work to get all damaged items repaired, whenever possible. Finally, we take measures to protect against the presence and/or spread of mold.
Learn More
.
Fire & Smoke Damage Restoration.
Fire is costly to both residential and commercial properties. It's easy for losses to reach into the thousands of dollars. Besides being costly, a fire in your home or office can significantly impact your life. We understand. We assisted many families during the Marshall Fire event. If you experience a fire or smoke damage please give us a call. We work hard to get your life back on track. We'll inspect your home or office for structural damage and our team will make repairs to damaged items. We will also remove any items that aren't salvageable. Our sole purpose following a fire is to get you back in your home or business as soon as possible. Learn More.
Mold Remediation.
When a home or office has had a water disaster of some kind, Mold can be a resulting problem. When mold is present, you want to address the problem quickly. Mold can spread into other areas rapidly and it can affect the health of your family or co-workers. Restoration 1 of West Denver understands that it is important to eliminate mold professionally and sanitize the area immediately. Learn More.
Other Critical Services.
If you live or work in Aurora, Restoration 1 of West Denver can help owners with a number of other cleanup services, including the following:
Please consider making Restoration 1 your go-to resource when disaster strikes in Aurora, CO. We operate around the clock, so don't hesitate to call at the first sign of a problem.
Why Choose Restoration 1?
High Service Standards
24/7 Response Time
We Guarantee The Use Of The Most Current Code Standards
Certified Experts
We Live In Your Community
We Have Experience Dealing With All Insurance Companies
Emergency Services
We Consider You Part Of Our Family
Pride In Meeting Your Restoration Deadlines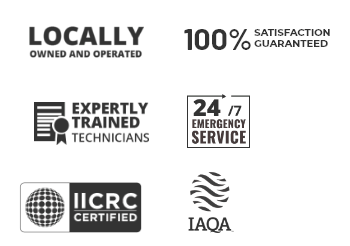 Fast Response Time - Local & Professional OPEN 24/7, CALL NOW!