West Denver's Professional Trauma and Crime Scene Cleanup
There are some situations that fall outside of the normal, everyday experience
If you are experiencing a cleanup that is extraordinary, Restoration 1 of West Denver is here to help – no matter the circumstances. Situations resulting from a crime, death, suicide, hoarding, bio-hazard threat or other type of trauma are difficult to deal with. Our technicians are trained to expertly handle these problems. Call us immediately at 720-605-2994.
Equipped with Advanced Tools and Technology
24-Hour Emergency Service
Swift to Respond to Any Size Emergency
Crime Scene and Trauma Cleanup Service
Restoration 1 technicians are trained to remedy traumatic situations by isolating, cleaning, disinfecting, and decontaminating each surface as needed. We handle each type of occurrence by assessing and designing a specific field-tested action plan suited to the problem. Our clients choose us because of our expertise and immediate response to any emergency. From serious crimes to other kinds of traumatic events, we've helped with a variety of restoration service situations. You can count on us to respond quickly and professionally to both residential and commercial properties.
Learn more about biohazard services.
Crime Scene & Trauma Scene Cleanup
If your home or business has recently been subjected to a traumatic event, you may need to hire experts who can restore the area to its original state. Our highly trained trauma and crime scene cleanup experts will deal with the aftermath of burglaries, death, and other incidents.
Using advanced technology, we can clean up biohazards and other contaminants, all while maintaining an air of sensitivity. As soon as the police have secured the property, let us help you begin the recovery process.
Rules & Regulations
Dealing with crime and trauma cleanup is a bit different from any other scenario. We must take extreme measures to prevent further contamination, which is why we follow state guidelines in regard to disinfecting biohazardous materials.
24/7 Emergency Service
We know that disasters are almost always unexpected. That's why we offer our services to Colorado residents all day, every day. You can call our line 24/7 to be connected with our expert team, which will arrive at your doorstep within the hour.
Certified Service Professionals
Each and every one of our team members is certified by the American Council for Accredited Certification (ACAC) and the Institute of Inspection, Cleaning and Restoration Certification (IICRC). When you hire the experts at Restoration 1 of West Denver, you know you're working with a team that's highly-trained and equipped to handle whatever problems may arise.
When crime or trauma impacts your home, don't hesitate to call 720-613-2290. We'll make your space clean and safe once more.
Why Choose Restoration 1?
High Service Standards
24/7 Response Time
We Guarantee The Use Of The Most Current Code Standards
Certified Experts
We Live In Your Community
We Have Experience Dealing With All Insurance Companies
Emergency Services
We Consider You Part Of Our Family
Pride In Meeting Your Restoration Deadlines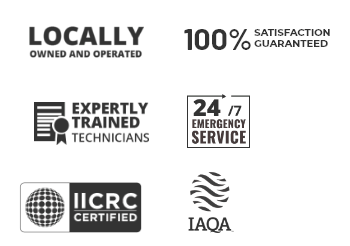 Fast Response Time - Local & Professional OPEN 24/7, CALL NOW!
Our promise is that we will use the best materials and above code quality craftsmanship to restore your damaged property.