Commerce City Water, Fire Damage & Mold Remediation Experts
Commerce City Water, Fire Damage & Mold Remediation Experts
Commerce City, CO is a municipality north of Denver and considered part of the Denver – Aurora – Lakewood area. Commerce City is known for having the largest oil refinery in the region. But Commerce City also has 840 acres of parks and open spaces.
If you live or work in Commerce City, the thought of fire and smoke damage, water infiltration, mold problem or another critical emergency may seem disconcerting. Still, it happens. If you live here, you can count on Restoration 1 of West Denver to respond to any unexpected emergencies on your property. When you call us, we provide immediate help to minimize the damage and get your property up and running quickly.
Experienced and Highly Trained Restoration Technicians
When an emergency does happen to your home or office, call in the experts. Our technicians are expertly trained, and they are certified by the Institute of Inspection, Cleaning and Restoration Certification (IICRC). Our experienced technicians know how to return your home or office to pre-damaged condition in no time. We will earn your trust by responding immediately and we'll expertly restore your property as quickly as possible.
Best Water Damage Restoration & Cleanup
We restore your home or office to pre-damage condition. Water damage caused by leaks, storms or major flooding can be extensive. Water intrusion can result in damage to areas of a home that might otherwise go unnoticed – areas such as behind bath and shower inserts, under cabinets and in crawl spaces. Water leaks in a commercial facility may go unnoticed for weeks – especially if they appear to be small.
Whether your damage is in a home or office, Restoration 1 will evaluate all spaces and properly treat the areas of your home or office where there is damage. Trust our professional water damage restoration team. Give Restoration 1 a call and let us evaluate your needs. We'll work quickly to restore your property.
Learn more.
Fast Fire & Smoke Damage Restoration
If you live or work in Commerce City and experience Fire & Smoke damage, please call a professional restoration team quickly. A complete evaluation is top priority. Even after a fire is extinguished, smoke damage can occur quickly and continue for days. By calling Restoration 1, our experts will respond quickly and arrive within minutes to salvage as many of your belongings and office records as possible. A delay in response will ultimately cause more damage to your property.
Learn more.
Mold Remediation & Inspection Experts
When you see signs of mold in your home or office, act quickly. Mold can affect the health of family and/or co-workers. Call Restoration 1 and ask for our mold remediation and inspection experts. These professionals can evaluate your needs and begin to remove any trace of mold on your property. Don't let mold create a hazardous environment for your family or co-workers. Instead, call Restoration 1 and let us take care of any mold issues.
Learn more.
24-Hour Emergency Service
Certified and Highly Trained Restoration Experts
Eco Friendly Service
Prompt Damage Assessment and Pretesting
| Sunday | 24 Hours |
| --- | --- |
| Monday | 24 Hours |
| Tuesday | 24 Hours |
| Wednesday | 24 Hours |
| Thursday | 24 Hours |
| Friday | 24 Hours |
Why Choose Restoration 1?
High Service Standards
24/7 Response Time
We Guarantee The Use Of The Most Current Code Standards
Certified Experts
We Live In Your Community
We Have Experience Dealing With All Insurance Companies
Emergency Services
We Consider You Part Of Our Family
Pride In Meeting Your Restoration Deadlines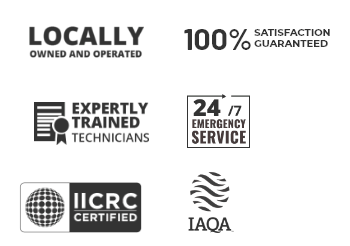 Fast Response Time - Local & Professional OPEN 24/7, CALL NOW!